My Blog
Posts for: April, 2019
By Denton Family Dentistry
April 14, 2019
The CAT scan is a relatively recent technique in dentistry, used to get an image of what's happening deep within your jaws. You may be wondering what a CAT scan tells us that a conventional x-ray picture does not, and whether it is worth the extra expense to get one. And how does a CAT scan compare with a conventional x-ray in terms of radiation exposure?
CAT stands for "computer assisted tomography." Often it's just called a CT scan, for "computerized tomography." The word "tomography" comes from roots meaning "slice" and "write." Tomographic techniques take repeated two dimensional pictures, similar to repeatedly slicing through an object, and then assembles them with a computer to produce a three dimensional (3-D) image.
The latest type of CT scan used in dentistry is called CBCT, or Cone Beam Computed Tomography. The Cone Beam refers to a spiral beam of x-rays, which is used to create a series of two dimensional images from which a computer creates a 3-D image. Such an image is of great value in assessing problems and planning treatment.
Here are just a few examples of how a CBCT scan can be used. Orthodontists can see skeletal structures and developing teeth that are still inside the jawbone while planning strategies for directing the teeth in order to arrive at a better bite. Oral surgeons can find impacted or missing teeth, see their locations, and view their proximity to nerves and sinuses, assisting them in planning surgeries. These scans are particularly useful for root canal specialists because they show root canals that are less than a millimeter wide and even reveal accessory canals that may not be visible on conventional x-rays. In cases of sleep disorders such as sleep apnea, a CBCT during sleep can be used to view a person's airway and how it may be blocked by the tongue and other soft tissues in a person's throat during sleep.
Compared to background radiation, the amount of radiation delivered in dental x-rays is minimal. A CBCT delivers a dose of radiation that is less than a typical full mouth x-ray series but more than a typical two dimensional panoramic radiograph. Generally CBCT scanners deliver lower doses than medical CT scanners.
With one low-dose CBCT scan, we can get an accurate idea of the internal structure of your bones and teeth and how they are situated in relation to each other. Prior to the availability of such images, many of these relationships had to be discovered in the course of a surgery or other treatment. Thus such a scan can aid greatly in the quality of treatment you will receive.
Contact us today to schedule an appointment or to discuss your questions about 3-D scans in dentistry. You can also learn more by reading the Dear Doctor article, "CAT Scans in Dentistry."
By Denton Family Dentistry
April 04, 2019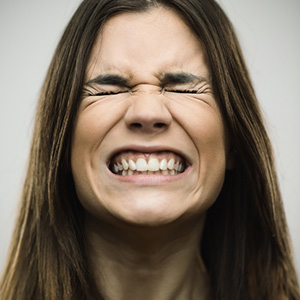 Do you grind your teeth? If you're not sure, ask your family—sometimes the sound of teeth grinding against teeth might make enough noise to be keeping them up at night. You might also be waking with sore jaw muscles and joints.
If you suspect you have this habit of involuntarily grinding, gnashing or clenching your teeth, it's a good idea to get it checked. Here are 3 things you should know about this odd habit.
Teeth-grinding more prevalent among children. Children are more likely than adults to grind their teeth in their sleep, thought to be a consequence of their developing swallowing mechanism, but usually grow out of it without any long-term effects. Adults with the habit seem to grind their teeth for different reasons, one of the most significant being a response to high stress. Tobacco could be another factor: users are twice as likely as non-users to grind their teeth. Adult teeth-grinding may also be associated with high caffeine consumption, illicit drug use or Parkinson's Disease, which impairs brain nerve function.
Sleep apnea can be an underlying cause. There's one other major underlying cause to add to that list: obstructive sleep apnea. One international study of thousands of patients from different countries found both high anxiety or stress and sleep-related breathing disorders were two of the most significant risk factors for adult teeth-grinding. It's believed the physical stress generated by these temporary episodes of breathing obstruction occurring several times a night could trigger teeth-grinding.
Teeth-grinding can cause dental problems. While having a teeth-grinding habit doesn't automatically mean you'll have dental issues, your risk can increase dramatically. Due to its chronic nature, teeth-grinding can lead to excessive tooth wear, dental work damage or jaw joint dysfunction. In some extreme cases, it could cause tooth fracture.
If you grind your teeth, your dentist may be able to help by creating a custom-made occlusal guard that can reduce biting forces while you're wearing it. You might also minimize teeth-grinding by quitting tobacco and other lifestyle changes, or getting a better handle on stress management. And if you're also diagnosed with obstructive sleep apnea, getting treatment for that condition will not only improve your overall health, it could help put an end to your teeth-grinding habit.
If you would like more information on bruxism, please contact us or schedule an appointment for a consultation. You can also learn more about this topic by reading the Dear Doctor magazine article "Teeth Grinding: Causes and Therapies for a Potentially Troubling Behavior."